Looking for Alaska by John Green
November 17, 2017
Looking for Alaska my not have been my first introduction to John Greene's literary work, having only previously read The Fault in Our Stars and watching some of his Youtube videos, he and his work are very impressive. Looking for Alaska, had a strange format--having no chapters-- just journal like entries, counting down to a foreboding AFTER section in the book, but soon I fell in love with it. As I read the book and devoured the wonderful adventures of Miles Halter, or "Pudge" as he's nicknamed, I began to wonder about the author. Throughout my life I have found myself many a time caring less about a book or movie and more about the person who wrote said book or movie; this is a parallel I found between Pudge and I. Often in the book Pudge finds himself reading people's biographies instead of reading their works. This began to happen as I read Looking For Alaska. I found myself wondering about the author himself and about his life. As I searched, I learned about his time at Indian Springs and how it influenced the story of Looking for Alaska, how his time working at a children's hospital made him want to write, and why he wrote the book.

Nearly forty years ago on August 25, 1977, a chain of events set off like dominoes, which would lead to me one day having the opportunity to read the book Looking for Alaska which would also lead to my reading of the book. In that year on that date, the author John Green was born, to his mother and father Mike and Sydney Green, who then had little to no idea that their son would one day grow to become a New York Times bestselling author of at least four books, including Looking for Alaska and The Fault in Our Stars. He is one half of the Vlogbrothers on Youtube and was the 2006 recipient of the Michael L. Printz award, a 2009 Edgar Award winner and has twice been a finalist for the Los Angeles Times Book Prize. Before all the awards and recognition, however, he was a teenager who loved to memorize last words and whose family had moved to Orlando, Florida. From there he was sent to Indian Springs School, a boarding school on the outskirts of Birmingham, Alabama, which he would use as the main inspiration for the setting of Looking for Alaska.

His time at the boarding school helped him greatly to grow as a person and into adulthood. In interviews he has stated "I wasn't doing well socially or academically in public school, and I was sorta failing to live up to my potential-- a long-standing theme of my life." His main motivation for wanting to attend Indian Springs came from a feeling of wanting to find his place in the world. So before his sophomore year, he and his parents decided he would go to the school his uncle and cousins had attended. Green was a bad boy so to speak in those day, who smoked a lot of cigarettes, hung out mostly at McDonalds, and roamed the woods trying to impress girls. Slowly attending the school lead to him having intensely deep friendships, which had been missing before. The teachers also helped him to find his way as a student. He did exceptionally well in English and over the course of the next couple of years he would graduate from Kenyon College in 2000, with a double major in English and Religious Studies

It wasn't until he worked as a student chaplain at Nationwide Children's Hospital in Columbus, Ohio that his interest in writing began to form. His original intent was to become an Episcopal priest, his experience working in a hospital with children suffering from life-threatening illnesses inspired him to become an author. In an interview he stated that "All the fiction I've written since working at the hospital has in some way echoed some feeling or experience or question that arose while I was at the hospital. In many ways," he continued, "it was a before-and-after moment in my own life."

John worked for a book review journal known as Booklist where he honed his writing, and began writing Looking for Alaska. Much of Looking for Alaska was greatly influenced by Green himself, and his time at Indian Springs. Green much like Pudge grew up in Florida, liked last words, and was lonely in his hometown. John Green states in the book Francois Rabelais's last words, "I go to seek a great perhaps," which greatly influenced Pudge and also influenced Green's desire to attend a boarding school. The boarding schools, Indian Springs and the fictional Culver Creek are both located in Alabama. Which bolster the idea that Green's life influenced the writing of Looking for Alaska.

John Green in many interviews and videos has danced around the question of whether Looking for Alaska is Autobiographical. In one interview he stated that "Generally, the book is probably more autobiographical than I usually acknowledge." he contests however "But it is very much a work of fiction. The facts, I can assure you, were ignored." in Green's book a very important plot point from the story namely Alaska's death, is similar to that of a fellow student who died on campus.

One of the main reasons John Green wrote this book came from his time working as a chaplain in a children's hospital. Much of what Green saw when he worked there made him feel helpless and angry. He wanted to write about love, grief and forgiveness, and how one could live in a world surrounded in ambiguity, and filled with questions we can never find answers to. This shows in the book, as the reader follows the story of Miles, they learn about the death of Alaska Young, who Pudge fell in love with. From her death, both Pudge and his friend Chip the "Colonel", start looking for answers to her mysterious death. In the book they never really find out why she died. They never fully solve the mystery of her death. He pulls this off well in the book. Eventually Pudge realizes that he will never fully move on if he keeps focusing on a question that can never be answered.

My interest in John Green has increased greatly the more I've learned about him. I learned how the early life of John Green greatly influenced the creation of Looking for Alaska. The life of John Green has greatly influenced the writing of Looking for Alaska, from his time as a chaplain at a children's hospital which motivated him to become an author, and how his time at Indian Springs parallels that of Pudge's time at Culver Creek, and then to one of the morals of Looking for Alaska. John Green wrote Looking for Alaska not only as a story for entertainment but also for people to learn from. Looking for Alaska teaches teens that sometimes there are questions that are unanswerable, and that sometimes one just has to move on and keep living their lives.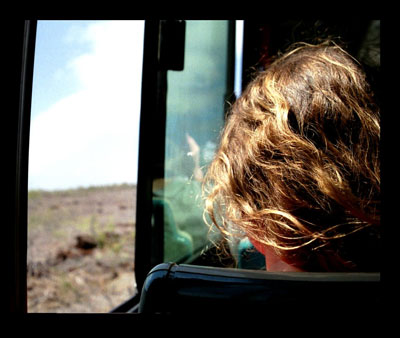 © Kate S., Hopkinton, MA