The House On Mango Street by Sandra Cisneros
October 17, 2017
The House On Mango Street by Sandra Cisneros is a good book that I think people should read because it is an inspiring story about a young girl who does not like anything about her life or where she lives, and the struggles she goes through while living on Mango Street.
The House on Mango Street takes place during a year in the life of the main character Esperanza, a 12-year old Mexican-American girl, who moves into a new house in Chicago on Mango Street. Although the new house is a lot better than the one Esperanza previously lived in, Esperanza is still unhappy because the house is small and in a poor neighborhood. Throughout the story, Esperanza makes new friends and starts to become interested in writing. The first people Esperanza meets are Rachel and Lucy, who are Mexican-American sisters that live across the street from Esperanza and eventually become her best friends. Esperanza then meets Sally, a girl who is the same age as Esperanza but is not a very good friend, often abandoning her. Esperanza also has a younger sister named Nenny, whose real name is Magdalena and often embarrasses Esperanza because of her immaturity. Lastly, there's Esperanza's Papa and Mama, throughout the story Esperanza's father is always working and is rarely home, and her mother is a source of comfort to Esperanza.
What I liked about the book was that while reading the story you get to see how Esperanza grows and matures because of all the experiences she had while living on Mango Street. In the beginning of the story all Esperanza wants is to leave Mango Street and leave all of her friends and family behind but, towards the end of the story Esperanza realizes how immature that idea was so instead she plans on leaving Mango Street to better herself first, then come back and get everyone she cares about to give them a better life."One day I will go away. Friends and neighbors will say, what happened to that Esperanza? Where did she go with all those books and paper? Why did she march so far away? They will not know I have gone away to come back. For the ones I left behind. For the ones who cannot out."
In conclusion, I think The House On Mango Street is an amazing book that everyone should read at least once because you will learn about the life and experiences of a young girl who is confused and unhappy with her life. The book is interesting, educational, eye-opening, and is definitely a book worth reading for all ages.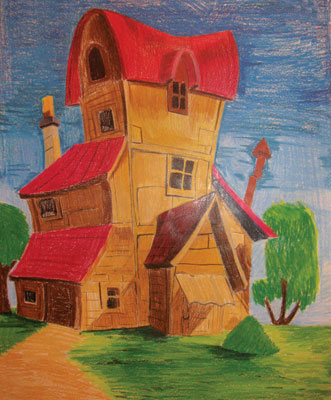 © Ronald W., Sherman Oaks, CA