Soul Eater in a Nutshell by Rythm
February 23, 2010
If your mind has been enchanted by whimsical worlds straight from the creative minds of some of the greatest-albeit-eerie directors, including Tim Burton, then Soul Eater is the series for you. Soul Eater, a type of Japanese graphic novel called a manga, is best described as creepy yet charming. Some of the interactions between characters will have you giggling one moment and then thoroughly disturbed. Being a fantasy novel, the universe of Soul Eater is not our own, but an alternate dimension of our world. All popular locations, such as Cairo, Egypt and London, England remain in this dimension, though are inhabited by some weird types of creatures, including but no limited to: nekos, humans with feline features, Witches, beings with an evil soul that have mastered magic related to a single animal, and Demon-Weapons, humans who have the ability to transform fully or partially into a weapon. Other humans, called Technicians, are trained to wield Demon-Weapons at a school called Shibusen. A Weapon Technician's main goal is gather 99 impure human souls and 1 Witch soul.

One fact that I find extremely interesting about Soul Eater is the diversity of characters. From the opening "bad guy", Jack the Ripper, to the first main characters, Maka and Soul, diversity is out in the open. This first graphic novel includes the beginnings of three main characters, such as Maka and Soul, Black Star and Tsubaki, and Death the Kid, Patty, and Lyn. Each of them go through their own problem with collecting souls, such as Maka and Soul's problem: destroying a supposed Witch who turns out to be a cat-girl, or Black Star and Tsubaki's problem: not accepting souls they did not earn themselves. This switching of perspectives really sets off your imagination, leaving you wondering ideas such as "Are the characters ever going to meet and interact with each other?" and "Will they make friends or be mortal enemies?". As the prologue of the series, Soul Eater 0 leaves you yearning for more and more as the black-and-white pages are rapidly flipped. And the best part is, the whole series can be located online at 9panels.com, ready for easy reading at any time!
Despite all of this opinionated description, Soul Eater is definitely NOT for everyone. Those who would not enjoy supernatural novels with thick monologues narrating the plot and conflicts would probably not be entertained by Soul Eater. Also, the graphic novels are not very long, and the contents are covered with pictures and chat bubbles, as one might suspect from a graphic novel, which can either be an advantage or disadvantage; in my opinion, finishing books quickly motivates me to continue on and finish the next. But that's just me. Still, if you are the type of person who is ready to give any book a try, try out Soul Eater and get ready to be thrown into the macabre-yet-cutesie (as the mange-style normally entails) graphic novel, and watch out for talking scythes and annoying ninjas!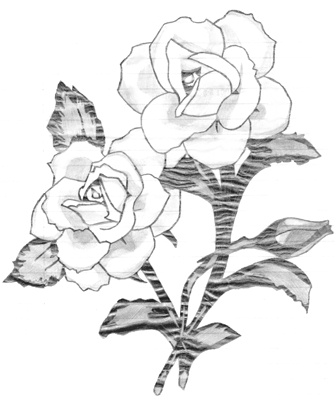 © Christy P., Providence, RI