Flags of Our Fathers by James Bradley with Ron Powers
February 8, 2010
"Raising the Flag on Iwo Jima," also known as the Rosenthal Photo, in which six men are raising a flag over Mt. Suribachi on Iwo Jima during WWII, has become an American symbol of victory. James Bradley spotlights these men in Flags of Our Fathers, while telling of the bravery, loyalty, and love of every man who landed on the invasion of that island.

The son of flag raiser John Bradley, James Bradley gives his readers a clear window to the past with this gripping, moving work. The six men he focuses on, from young Franklin Sousley, just eighteen, to twenty-five year old Bougainville veteran Mike Strank, had their own tales and lives; in a lucky shot, they were caught in the 1/400th of a second that became one of the most famous photographs of the twenty-first century.

Each man was changed by the war. Each man changed the nation in a way they could not have foreseen, in the un-extraordinary event of raising the second flag on Suribachi.

Besides the battle of Iwo Jima, this memoir also follows John, Rene Gagnon, and Ira Hayes along the 7th Bond Tour back in America, where the men were treated as heroes they did not believe themselves to be.

Flags of Our Fathers is more than just a history of Franklin, John, Rene, Ira, Mike, and Harlon Block; it is a salute to all the soldiers who died in World War II, particularly those during the terrible battle of Iwo Jima. I highly recommend this book, as both a wonderful historical work and as a beautiful and touching story. The high point is not the flag raising, but rather occurs in a sad but sweet event that could almost be called "ordinary." Believe me when I say boys and girls alike have enjoyed this- have both laughed and cried when reading this.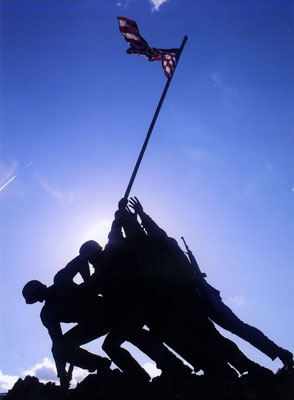 © James M., Glendale, AZ