Shade's Children by Garth Nix
December 15, 2009
What happens when your fourteenth birthday is your last? And, only one thing can save you. And, where your protector may not be trusted.(As said on the back of the book.) Well, if you want to know read Shade's Children. This book has everything from action between robots and love between Ninde and Gold-Eye.

My favorite character in Shade's Children is Gold-Eye because he is like me in a sense, because I can't be as active in a situtation like him. But, he is like me because he keeps to himself, which I usally do. Gold-Eye also has vision where he can see into the future, which is why he has "Gold Eyes" and why he has the name "Gold-Eye."

The weirdest part of the book is how Shade makes everyone do a video of themselves. In the video they tell about random things. The videos usally come after all the chapters. The video acts as if someone is asking the crew questions, which makes you wonder what is really happening. It's almost like this book should be a movie, but there is not one made yet,

The crew in the story is Gold-Eye, Ninde, Drum, and Ella. Which they are called "Shade's Children." What they have to do is destroy these Silver Orbs so everyone can live normal again. What happens when you turn fourteen is that the Overlords kill you and feast on you. They make some people stronger for some more meat to eat.

Shade's Children are people that escaped away from the dorms by cutting their trackers out of their wrists. Shade is a computer program that is very suspicious when it comes to making a choice. Some of Shade's choices are bad and some are good.

I won't give away anything but two people die in the story, which I find it to be sad. But, the ending is great because the Gold-Eye and Ninde end up together and live in a free world with their new children. And, Ninde and Gold-Eye both have powers which for Ninde is Telepathy and Gold-Eye he can see into the future.

I found the book to keep me on the edge of my seat with all the action and if they were going to get caught and killed. I'm not a fan of much Romance but the way they played it out in this book was very interesting. It also seems as if your inside the story battling along with them against the Myrmidons and Trackers of the Overlords. I think the book is a little inapporprate for middle school students but, for high school students it is a great book. I suggest you pick up a copy of Shade's Children and find out for yourself. I have also heard good reviews from Garth Nix's other books and I might check them out.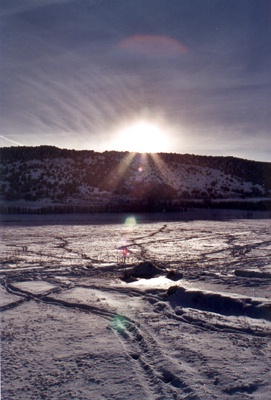 © Brandon T., Manila, UT