Looking for Meat?
November 29, 2017
Food quality, price, environment, and serving experience—these are usually the main factors restaurant lovers analyze when going out to eat. Although, of course, there are many other characteristics that play an important role in the choice of where to eat, such as food safety and variety, innovation, reputation, availability of delivery and carry out, branding, and much more, the main focus is in the first four attributes listed. Fogo de Chao, a very traditional Brazilian steakhouse, brings a whole package of these qualities and much more to its customers. Fogo is a unique kind of steakhouse. It provides its customers with a serving
experience completely different from the American barbecue style, a top-notch quality food, an organized and sophisticated restaurant atmosphere, and—last but not least—a reasonable
price when compared to most steakhouses.
Located in Orlando at International Drive, Fogo de Chao is an all-you-can-eat steakhouse that serves its customers with fifteen different meat variations including pork, lamb, chicken, and steak. However, what really translates its uniqueness is the serving experience it provides. All the meat is served in the traditional Brazilian style, which means that the whole piece of meat is brought on a skewer and sliced at the table by waiters dressed in the typical south American gaucho (inhabits of South America which are similar to cowboys). The only thing needed from the customer is to flip a round little tag placed on the table, which has a green and a red side. In this case, green means more meat, while red signals to the staff that the customer is satisfied at the moment. This distinctive serving experience, though strange for some, makes many meat lovers fascinated. According to a
review from Business Insider, a web magazine that reports on many growing businesses, written by Ryan Gorman about his Fogo de Chao experience, "each variety of meat looked
amazing when brought over on the skewer and sliced at the table." This analysis signifies how Fogo's exotic serving style makes its clients have an overall positive view of the restaurant.
In addition, this restaurant provides its clients with high-quality food. To begin with, the so-called market table, which is an enormous rectangular shaped table—similar to the ones used in buffet restaurants —that has a variety of side dishes, is amazing. The sides that are definitely worth trying are the rice, beans, and farofa, which is a toasted manioc flour sautéed on butter mixed with onions and sausage. These three are between the most traditional recipes in Brazilian culinary. Fogo de Chao's grand feature, however, is the types of meats that go around to the tables. The lamb chops, picanha (Portuguese for top sirloin), beef ribs, and pork sausage are juicy, tasty, and cooked according to the wishes of the customers. In a review from The Washington Post, food critic Tom Sietsena describes, "a rosy ribbon of beef from a glistening slab." In this excerpt, he clearly illustrates the tasteful appearance from one of the cuts of steak during his Fogo de Chao experience. In contrast, there are some other meats that do not follow the same pattern. For instance, some cuts such as the fillet mignon covered with garlic and most of the chicken cooked there are dry and too salty. Also, some specific cuts of steak appear more than others, but that can be resolved as long as the customers express their needs for a specific type of meat. Aside from these exceptions, the food is spectacular, extremely tasteful, and capable of satisfying most carnivores with a variety of cuts of beef, pork, lamb, and chicken.
Furthermore, the ambience of the restaurant is sophisticated with the right amount of illumination and decoration over each table. At the entrance, the glassy walls and the red carpet can make many customers feel they are Hollywood stars. Inside, the colors are well balanced, bringing an atmosphere that is not too dark but also not too bright to the customers. Between the kitchen and dining tables, there is an amazing and enormous storage room with a great variety of costly wines that can satisfy even the most exotic customers. However, this restaurant falls short when it comes to comfortableness. The dining room's chairs are short and do not give much space for the customers to sit comfortably. Also, most of the tables are not large enough to accommodate all the food brought to the clients, leaving them with an uncomfortable amount of space to eat. In sum, though there are a few improvements to be made to the dining setting, the environment provided is very elegant and well-decorated.
Finally, although Fogo de Chao is considered an expensive restaurant for many, it is important to state that, unlike most steakhouses, it is an all-you-can-eat, which provides top
quality meat cuts. Also, the price is reasonable if put in comparison with other steakhouses, which do not provide their clients with the same unique experience and are just as expensive. According to the menu, Fogo de Chao currently charges its customers $34.95 per person for lunch, $52.95 per person for dinner, and $26.95 per person for just the market table. However, there are steakhouses that charge thirty dollars or more for a cut of New York Strip, which is a popular steak cut from the sirloin. Thus, even though some may not feel this
way, paying a higher price to taste fifteen different cuts of meat and a variety of delicious
sides is worth it.
Fogo de Chao—just like most restaurants—is not perfect, but it is definitely a place to go at least once. This restaurant really mastered the art of Churrasco (most closely translated as barbecue). In a rating range from one to five stars, I would be confident in giving this place a four. It certainly can make its customers satisfied with a particularly remarkable serving experience, delicious meats and sides, elegant environment, and fair price. Fogo de Chao definitely has the capability to be considered an amazing, special, and excellent place to go out to eat.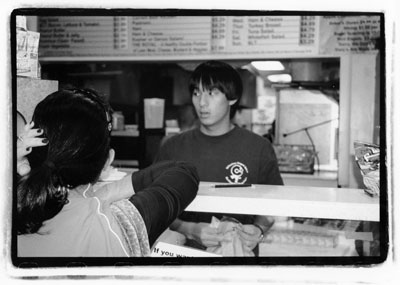 © Rachel D., Bethesda, MD