Starbucks
November 24, 2017
Wonderful environment to learn the art of customer service, efficiency and leadership. Starbucks has a fast-paced environment that really helps get customers what they want really fast. This maintains people to consistently go to the store and get more, the more people get through the more people they have to attend.

Customer service experience is really great and helps people understand things. It helps people that work there to develop multitasking skills so that they can adjust to the fast pace. At Starbucks, they get complimentary coffee during shifts which motivate and helps focus the employers and gives better service to customers.

They offer full-time medical benefits at part-time so they can get more workers that won't have to worry about getting sick or injured, and the more workers the faster people will get attended. It can be stressful during periods of high volume, can be a bad thing but isn't really a big problem if you just go there to buy coffee.

One of the new drinks that were limited for Halloween was the Zombie Frappuccino, visually, the drink was immediately striking. The pale mint-green blended drink was topped with a brain-like whipped cream topping with a rich pink color. The whole beverage was drizzled with chocolate syrup, which on top of the pink whip, had a deep red tinge resembling blood. It looks just right for Halloween. Next was the taste test. To my surprise, each sip tasted like a caramel apple pop. The creme-based frap wasn't too sweet and the flavor was just right, though it did seem to get more watered down as I drank more and more of it. The pink whipped cream had a berry flavor, adding a little tartness when mixed in with the drink. The chocolate sauce also mixed well with the other flavors, resulting in one of your favorite seasonal Starbucks beverages yet. Though I think the green and pink look, drizzled with blood, might be a bit much for the rest of the year, I hope Starbucks decides to keep the apple caramel combination around beyond Halloween. It just might become my go-to drink.

Starbucks uses a variety of ingredients some of those like milk. It really depends on what drink you are going to get to know what ingredients are in the coffee. Luckily in most of the drinks that I reviewed had natural flavors and I wasn't allergic to any of them. The ingredients they use make the coffee have a rich flavor.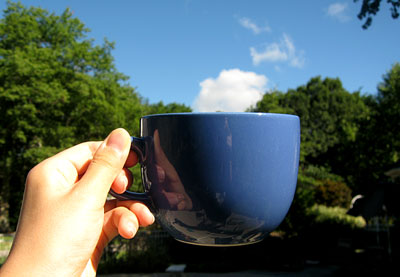 © Chae Lin S., Providence, RI