Sweet Find or Sweet Lie?
November 1, 2017
Ice cream is one of the most tempting and enjoyable desserts among guilty pleasures. A thick, hefty scoop on a Sunday night is enough to satisfy a sweet tooth, in addition to straying from diets. Naturally, when a small L.A. bound ice cream brand called Halo Top was introduced in 2012, many rejoiced. Finally, a sugar free ice cream that does not taste like expired yogurt has been found! No more succumbing to a pint of ice cream and feeling the devastating blow to your New Year's resolution.

In fact, the eye-catching container reveals the ice creams' low-sugar, high-protein and mind-boggling 240-360 calorie count. Justin Woolverton, founder of the successful product even claims that you can eat the entire pint and still fit it into your daily calorie intake. Halo Top's accomplishments are further emphasized when stacked against Ben and Jerry's a regular ice cream brand originating from Vermont. Around for more than 40 years, the product contains 428 grams of calories in a vanilla flavored pint, towering over Halo Tops' 256 grams. In addition, Ben and Jerry's contain 14 more grams of fat than Halo Top, which only contains 2 grams. However, as convincing as these numbers are, the final decision boils down to the taste test.

Since vanilla is the most basic flavor out there, tasting the difference between the two did not prove to be difficult. After trying a spoonful of Ben and Jerry's, the release of childhood memories reminded me as to why I fell in love with this brand in the first place. I instantly relished the thick and creamy texture that melted onto my tongue- and how it was heavy, but did not make me feel sick to my stomach. The recipe was perfect, containing the proper amount of sweetness in every spoonful. It stayed true to the original vanilla, demonstrating the pure delight of the classic flavor in one taste. At this point in regards to the taste test, I was running out of hope for Halo Top. Simply nothing could beat "real" ice cream.

Shortly thereafter, I eagerly opened the container of Halo Top. Straight away, I noticed some comparisons. The outer edges were traced with ice, and overall the packaging seemed harder. As I tasted it, I knew it had not lived up to my expectations. The cream tasted too sweet, and after a spoonful or two I had lost my appetite. In addition, the ice cream seemed to crumble as I placed it in my mouth. Unlike Ben and Jerry's, the texture was watery and left much to be desired. There was no rush of childhood memories, no "mmm" after placing it in my mouth, and no burgeoning 5 star rating yearning to be given. Finally, I had come to my conclusion. While Halo Top was the healthier alternative and more pleasing to dieticians and health gurus alike, my faith would always lie in a good pint of Ben and Jerry's ice cream.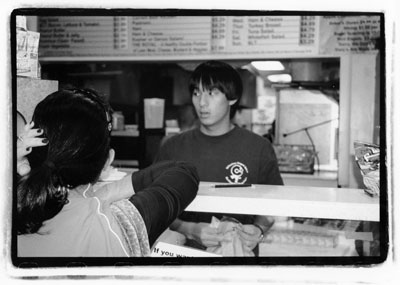 © Rachel D., Bethesda, MD