Once, a Tony Winning New Musical
July 26, 2012
I entered the Bernard B. Jacobs Theatre with my ticket to Once knowing only that it was a new romance musical. When I was younger, I went through a stage where I would sing lyrics to musicals such as Annie and My Fair Lady at the top of my lungs, but I outgrew that years ago. As for romances, I was never a fan. But I must humble myself and admit that Once is absolutely phenomenal.

The story is an excellently crafted balance between sentimental and sappy, revolutionary and cliché. First, let me explain the two main characters. They are listed simply as "Guy" and "Girl" because in the musical they remain unnamed. This is obviously intentional, as their lack of names force the viewer to see their personalities rather than what they are called. I realize that had they names, what they were called would merely get in the way of the message they were trying to convey. The Guy is a songwriter brooding over a lost love and sacrificing his music in the process. The Girl is a young mother left by her husband who sets her troubles aside to enjoy life and help others. Oblivious to the will and the way of society, the girl encourages the guy to pursue a musical career despite his reluctance. Within days, she has given him the confidence and allies he needs to record a few of his songs in a recording studio arranged by the girl. The guy has known he loves her since their first encounter, but does not express his feelings. While the girl unleashes the guy's full potential, her hidden love for her slowly brakes down her barriers, revealing a vulnerable and hurt young woman with a loving heart. I will not give too much away, but Once is not your typical "end with a passionate kiss" cliché.

The score consists of a wide variety of songs, all under the umbrella of folk. It's song and dance mixture is between the operatic yearning for romance and an up-beat modern hip-hop. "Falling Slowly" truly conveys the feeling of heartache while "Gold," an entirely different message. Fans of Spring Awakening will appreciate the quality and variety.

There is not scenery change in Once. A set of the music shop the play is mostly set in suffices for most of the scenes, and furniture is brought in and switched out for others. I found myself so caught up in the story and convinced by the actors that I nearly forgot about the scenery entirely, imagining the scene playing out in the guy's room, the girl's house, or wherever the scene took place. It was not an original idea, but one that works for Once in that like names, fancy sets and special effects can hinder the true message.

Once is an outstanding production that latches onto the viewer's soul and grabs it at the core, a true work of art.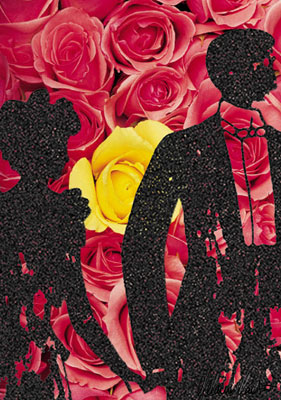 © Melanie M., Hendersonville, TN