Jimmy John's comes to Coral Springs
May 1, 2012
Finally a Jimmy John's in Coral Springs! This tasty sandwich restaurant is new to this area and definitely worth checking out. This growing restaurant chain is gaining popularity and it deserves it.

The 19 year old with two first names established his dream in 1983 in Charleston, IL and it is still going strong. These restaurants only pop up in urban areas where the population is large and hungry.

I recently visited Jimmy John's over a weekend and I am happy to say that I had an excellent experience. The area was buzzing with people and when I arrived the line was almost out the door.

At first, I was a little disappointed thinking that maybe the restaurant's service was bad, but it turns out that it was actually very fast! I didn't have to wait in the line for more than three minutes and once I ordered, the food was ready immediately.

The menu offers much to choose from that ranges from plain orders to complicated masterpieces. They not only have service that was speedy, but my lunch was delicious as well.

I got a Pepe which included applewood smoked ham and provolone cheese garnished with lettuce, and mayo with potato chips and a refreshing soda that hit the spot.

The crushed up ice in their soda fountain is my favorite! That may sound a little strange, but the ice machine has ice cubes that are in the shape of little pellets that melt in your mouth.

It seemed like everyone in the room was chowing contently, along with myself, my brother Jacob and my friend Alexa who enjoyed their meals as well.

Another gratifying attribute to Jimmy John's is their working environment. The employees are outgoing, funny, and ready to take your order! As the restaurant says itself, "Jimmy John's employees are the ordinary people doing extraordinary things."

Overall, the food, service, and environment was very enjoyable. I would have to say that it is a close tie between Jimmy John's and Sublicious. How will starving teenagers ever choose?!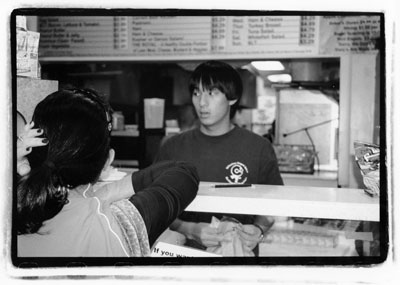 © Rachel D., Bethesda, MD