Roman Architecture: The Tower of Hercules
November 24, 2011
Location: Coruna, Spain, once known as Brigantia, Rome.
The Tower of Hercules is an ancient Roman light houses said to be built in the late 1st century BC or the beginning of the 2nd century BC, and is about 1900 yrs old. It is the oldest functioning lighthouse in the world. It stands about 185ft tall, it is said to be modeled after the Pharos lighthouse of Alexandria. The design of the lighthouse is of Phoenician origin, built by the architect Gaius Sevius Lupus and dedicated to the god of war Mars. Said to be built under the Roman emperor Trajan, it was a key factor in Roman goods coming into safely Brigantia, Rome's harbor. The lighthouse has been used for a long time to direct traffic coming in from the Atlantic Ocean.
Many myths have been made about this spectacular lighthouse. One is that the Lighthouse is said to be a top all of Hercules slain enemies. In the coat of arms for the city of Coruna the lighthouse sits atop a skull and cross bones (representing Hercules slain enemies). Another myth is that the city Coruna where the Lighthouse was built on the head of Greyon, after Hercules killed him.
During the Roman rule the lighthouses were very important. Many were located all across the shores of the Mediterranean Sea. They helped Rome protect the coast as watchtowers, and got many Roman goods all over the world, by protecting the ships. It was one of the many achievements that helped the Roman Empire to become one of the most famous, and powerful civilizations known today.
The Roman architecture has influenced many buildings in western culture, especially in the US in the capitol city of DC. The White House, and The Lincoln Memorial, just names a few. Also like the Tower of Hercules, there are many lighthouses today following its original design.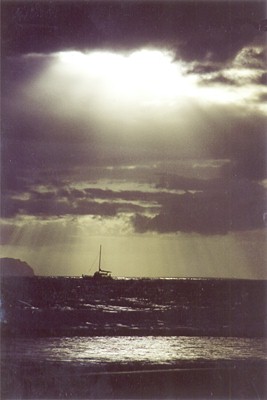 © Lily H., Kekaha, HI