2010: A Review
April 21, 2011
What just happened? The world has just recently concluded its 365-day-long revolution around the sun. 2010 is over - we lived it, breathed it, defined it. But, like a lump of clay needing to be molded, it is still unclear as to how we will remember 2010.
2010 to many was seen as the year of cracks – from the metaphorical breaks between Tiger Woods and his wife to physical splits like those caused by the earthquake in Haiti, Cam Newton splitting the competition wide open, and scientists splitting particles to create a new element known as ununseptium.
At the very least 2010 was exhilarating, Lebron James gave us a reason to witness his "quitness". America got sick to their stomachs with Bieber fever but finally, all those lonely girls had somebody to love. Yet, as the love for Justin Bieber was more than abundant, the same could not be said for Tiger Woods. As a multitude of Tiger's girlfriends spilled their stories, BP spilled a more threatening substance entirely. Then it spilled more, and more, and more. British Petroleum came out with corny commercials to try and win America back, the American Revolution part 2?
While workers labored around the clock to clean dirty birds, Miley Cyrus appeared to be the dirtiest bird of all in her "Can't Be Tamed" music video. Cough, cough, next Britney Spears. Amongst some of the downfalls, America found retribution in an unlikely hero – a soccer player no less. Landon Donovan wore the heart of the country on his sleeve, but even he could not escape Paul the octopus and his predetermined victory. Soon after the World Cup, Paul died ?.
Speaking of Paul's the Pau's and Pauly's, and Palins had a great year! Pau Gasol and the Lakers won a championship, Pauly D and the cast of the Jersey Shores taught us new meanings to words we thought we knew (grenade, gorilla, situation) and words we still don't know (Snooki). Sarah Palin had a successful turnout at her tea party, and she launched a successful show, Sarah Palin's Alaska, teaching us that she has a nice family, and that she can't shoot a gun. But The Social Network's Mark Zuckerberg taught us he knew how to shoot a friend in the back. Needless to say Mark and Facebook didn't care. And neither did the Glee cast as they sang loud despite the hatred of their peers.
Technological advancement was great in 2010 from robots cleaning up the coast to anything Apple creates – for them, 2010 was just a victory lap. It was the same for Oprah; the Big O announced it was her final season. With the shutting of that door, Conan O'Brien's door opened.
But 2010 would not be complete without Obama. He had major downfalls and few triumphs; some would even call it an "Obamanation." 2010 was not his year, not only did he lose the majority in the House, but he lost voter approval. Small glimmers of hope and change were seen at the end of 2010, but they are only echoes of what was promised. America echoed back "Forget You". Perhaps Cee Lo Green heard us?
2010 was very…eventful. But what will 2011 bring?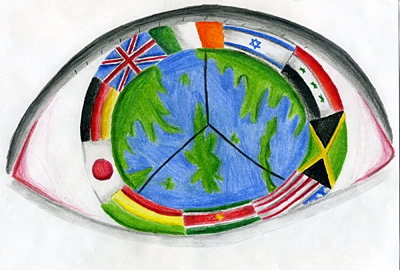 © Kelly L., Brooklyn , NY