the educator
April 26, 2010
Teri T. a most outstanding educator, one of the many teachers who have impacted my life in academic years. She handles every student as her own. She is one the many teachers who work in my school. Teri t. is an inspiring educator, a teacher who is willing to take the extra step to help the students, and a extraordinary role model to learn from.

Teri T. inspires her students to further their education so they can make a difference in the world. She inspires her students to try to do better then we did first time, to me was if we try once and do okay we should try again and do even better-quality of work the second time. She also inspires students with examples of what we can achieve such as what Spartacus did in Rome to free the slaves, Thomas Edison in inventing the light bulb and how he struggled many times to perfect it. She would inspire her students not just with past scientists and heroes but also with remarkable people such as today's athletes, lawyers and medics. She has inspired me to do what is best for me in my future such as to challenge myself and to get a higher education such as going to college or even just a technical school but the real purpose is to get a higher education than just a high school diploma. She gave me an understanding that I can make a difference in the world maybe not a big one but one that can help many people. She is also an inspiring educator to her students in that she is a hard worker and is very dedicated to them as well. I believe that she is a great teacher because at her work in Paterson everyone has a great respect for her because she takes her time with her student on one to one learning experiences.

Teri T. would take the extra step with her students to aid them in whatever they need help in. She would speak with them out of school to tell them to make goals out of school and challenge themselves to achieve them. With every year that has pass she has helped me challenge myself to more challenging high school courses. You are probably asking yourselves how she is any different from any other teacher. Well she is different in the sense of that if you need her help she is willing to help you in whatever she can. She is also there ready to aid you whether if it's just giving you advice in what to do or to help you with tough homework or even if you are having family issues. Even though her job is just to help students in their speech, she tries to convince how having a greater education will open many doors in the future. This is why I believe that she goes the extra step when it comes to being a teacher.

Teri T. is an incredible teacher to learn from. She is one of my role models in that she takes action in her community to teacher youngster to stay away from drug, alcohol and under aged sex. She tries to make a difference in her community in being active in it. She makes a relentless effort to help children learn from their mistakes and tries to lead them on the right path. For an example she makes time for children after school to teach them about the effects of drugs, alcohol, sex, and gangs. She is also an active member of her church group and teaches children to try to follow a good moral. This is why she is a great person to learn from.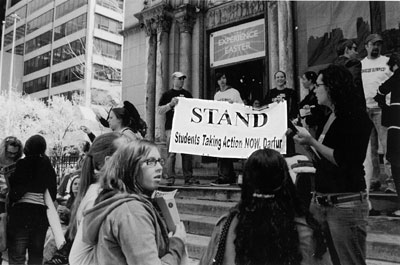 © Meaghan M., South Portland, ME