Gypsy Lady
February 15, 2018
Her waves traveled from a faraway land,
Teased and grabbed at the shore's sand-coated feet,
In the bubbling foam, earth and water meet,
Laughing through her mist, joy was her command.
Beautiful was her slow movements, so planned,
That edged onto earth; innocent and sweet,
Whispering against the beach, a white sheet,
Her voice a calm contrast to the mainland.
Clouds of gray overtook the serene sky,
As if in revenge for a lover's death,
She rose and fell; unyielding and cruel.
Her body now gray as blue was a lie ,
Wistfulness gone, waves crashed with irate breath,
To toy with such anger, one is a fool!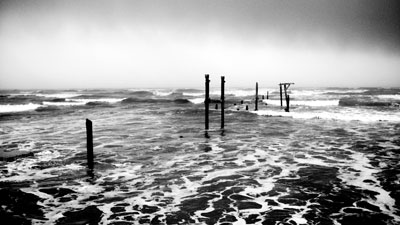 © Harrison L., Ruston, LA