Sacrifice of Vengeance
March 7, 2014
Flooding in are the waves,
As soldiers fall and let out wails.
As I stand and wait for those who were saved,
Cannons explode to my utmost displease.
I get a letter instead of a hug,
My brother's hands shouldn't have been holding a gun
My hands shake and eyes water as I read the words,
I'd rather be there and die than not see him at home.
Vowing not to risk another,
I set out on my own,
For avenging the death of my brother.
Weakness only in my heart,
Surviving and victory visible on my dart.
Hitting the bull's-eye with every step,
A plan formulating in my head.
Looking him in the eye after hours practice,
My transformation of life begins.
Looking like him, Dressing like him, Becoming Him…
Observing him over the years has finally helped me today,
When I decide to take his place.
I will hold his gun and shoot whenever I see a head,
I will kill until they are all dead. For revenge is all that ignites my life
My ladylike behavior is now all gone,
Along with the sweet life that took care of me.
A lump in my throat,
A limp in my bones,
But I'm not asking for anyone to stop me.
And neither will I ever listen.
As I put on my gear and put down my personal items,
The letters from my brother cannot be sidelined.
However, if I die tonight, I need them for my might.
Rifle in hand, climbing out of the trench,
Shots go off in seconds.
My hands tremble as I lift the gun,
Shooting at any light and opening,
Spotted enemy uniforms lie motionless in red mist.
As I enter their trench,
I feel in the pit of my stomach,
Pain doesn't hit till moments ago,
When I pulled out the letters,
I clutched them to my heart and said,
"Dear mother, father, and sister don't fret for I will be forever with brother."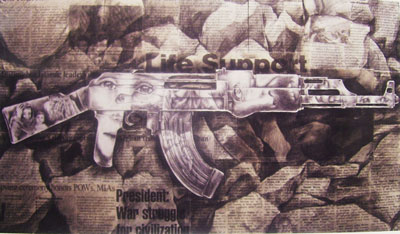 © Claire V., Lubbock, TX