While the Sky Floats By
May 6, 2012
I sit and watch the sky float by;
The bright blue clouds, the soft white sky,
The azure haze that warps the eye.
For all of this, I wonder why
I'm sitting here. I shift. I sigh.
I could be like the birds, and fly
Through fields of springtime grass grown high.
I'd run forever, or I'd try.
Yet still I sit, and still I sigh.
As all my boogers liquify
And drip out of my nose blown dry.
Why is this May and not July?
Is summer just an alibi?
When teachers flee the school-year lie,
And students talk, f***, and get high?
And fall is when you say goodbye,
And watch false freedom nullify.
No, no, let's not misclassify.
Perhaps it's when the wheat grows high
As books and movies certify.
"The time to meet 'that special guy.'"
If that's the truth, then maybe I
Have been to quick to vilify
Summer's dulcet lullaby. --
Unchanged, I sit. I shift. I sigh,
Wishing that run would vivify,
But I will run before I die.
For now, I'll just try not to cry
As the due date of my draft draws nigh.
Instead, I'll watch the sky float by.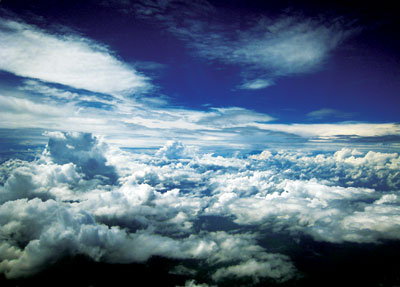 © Jacob W., Oklahoma City, OK