The Butterfly
May 14, 2012
Oh Butterfly, oh Butterfly,
I watch you as you flutter by
On wings of silver, gold, and blue;
You shimmer with each sparkling hue.

With touch so soft and light and airy,
I compare thee to a garden fairy
Who flits around from here to there
To kiss each rose with graceful air.

Yet before, you began as a humble grub—
Barely a bit of a bumbling stub!
Once but a worm so meek and low;
Once brown and glum on earth below.

You who were without much feature
Hoped to become a lovely creature.
For many a day you lay concealed,
Then bursting forth, splendor was revealed!

One day, Butterfly, my day will dawn
Now I learn to wait as years pass on;
And when He comes in perfect glory
We'll all remember thy worthy story.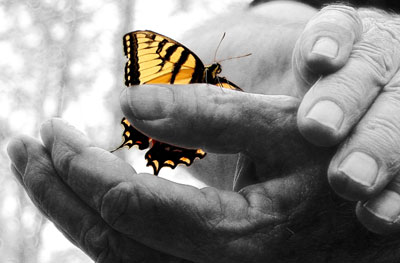 © Katie K., Macon, GA