Daisy Smiles
June 21, 2010
Daisy smiles on a clear laughing day
Citrus daydreams as rain poured away
Blurry edges; sunny windows
Baggy T-shirts; time that flows
Months behind me, yet vivid as few
I miss you.

Wooden benches on a cloudless glassy day
Dancing with the sun's gentle soothing rays
Winged memories; composition book lists
Mumbling chuckles; climax of a wish
Salty countertops, skies so blue
I miss you.

Handful of heaven on a green meadowed day
Magenta melting under your focused gaze
Forgotten review books; bees caught still
Cherry water ice; days run-of-the-mill
Sequined, spiced, blossomed, and grew
I miss you.

Twinkling teasing on a rainbow puddled day
Flavored regret, wishing I could stay
Ideological debates; doodling hands
Shreds of leaves; animal rubber bands
Ephemeral moments that came and flew
I miss you.

And then it was over, those doe-footed days
Sun-chip saltiness with a lingering taste
I dwell too much on memories—still in my mind
But those daisy smiles you've long left behind
So what's left to say? What's left to do?
I miss those daisy smiles.
I miss you.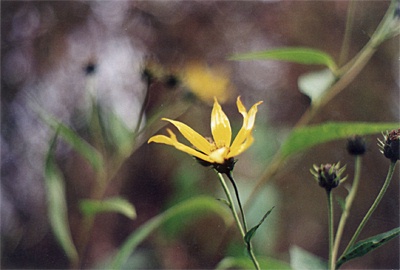 © Scott R., Casco, MI