Reaper
May 1, 2017
Would you look right here,
Man we've got another hunt
Where's he running? I don't know
On this broken battlefront.
Come on boy, listen up 'cause you haven't got long.
A Reaper doesn't care if you're right…
Or Wrong.
Our job is to kill
And yours is to die.
Where you're runnin' I don't know
But you're dead where you lie.
War is just a game, and the smartest players win,
A Reaper doesn't care where you're going,
Or been.
I'm the best there is,
And everybody knows
What I do and how I do it
Then their life comes to a close.
See I'm a tool of death,
And that's just my life
I could start right over
But my start is just a lie.
Would you look right there,
The sky is flashing signs
Of a coming Reaper's howl
And bullet through your sprine
Come on brother, listen up, 'cause you got to run and hide,
A Reaper doesn't care who lives,
Or dies.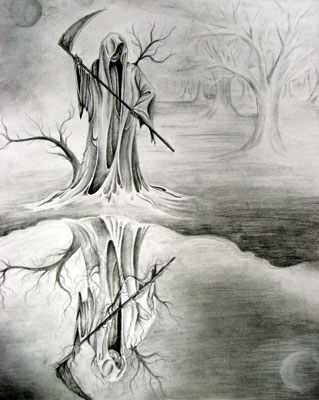 © Lacey T., Wasilla, AK