Sleepless Nights
April 28, 2017
Every night seems to pass by forever and time goes by slowly
These voices in my head never stop screaming and yelling
I needed to sleep, but I couldn't. I just sat on my bed.
I smoked cheap cigarettes the rest of the night, still nothing
I stared at the wall, knowing that my sleep will be gone
The alarm rings, I'm still awake, and the night is done.
Everytime I close my eyes
It's like a dark paradise

My life outside my home isn't much better.
I go out but I feel like a stone, lame and boring.
College sucked. I've gone to none of my classes so I dropped
My clothes look like junk, old, and smell like trash.
People outside give me odd and funny looks.
Is it because my pale face? Or my bloodshot eyes?
I feel like I can't concentrate on anything at all.
At this point I practically look like a homeless person
Everytime I close my eyes
It's like a dark paradise
It's been three days without proper sleep and it's tough
I thought I had it all planned out but it never went through.
I've never felt so alone, so sad, so unkown.
Maybe I'll get better but who knows?
I feel myself going insane as the clock ticks
My endless night goes by, hours at a time.
*Everytime I close my eyes
It's like a dark paradise
*Refrain from "Dark Paradise" by Lana Del Rey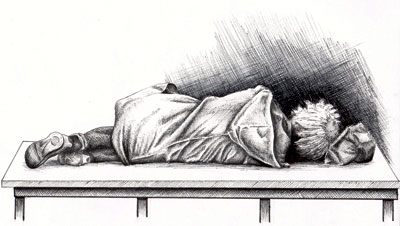 © Devin N., Sherrills Ford, NC