girl, fragments
March 13, 2017
girl, fragments
I.
a jump rope, a garage,
a pink paisley bathing suit,
tiny doll feet that leave salt-soaked seawater imprints
on concrete.
red and black, you're okay jack
red and yellow, you're a dead fellow:
II.
a loose blue dress swinging around my knees,
camera flashes and parents proudly laughing,
surprise banner hung above my head.
we ate cake and I have twenty friends,
smiling blonde and brunette boys and girls,
one red-headed best friend smiling softly back at me.
III.
eighth grade tummyache,
vodka breath for the first time and a sickening swell of heat,
I fall asleep feeling sweaty and swearing to never, ever,
ever,
drink again.
IV.
a clutched hand, a head wound,
a dress from Charlotte Russe, surely ruined,
crying salt-soaked tears, tiny doll feet
burning and bleeding on the concrete.
I'm doing this because I love you,
someday it'll just be us two.
V.
bags underneath my eyes, excuses on my tongue,
glancing at my phone the entire day;
no one wants to wish
The Girl Who Cried Rape
a happy birthday.
I press on my eyelids until I stop seeing the red that ran down the drain,
the red-haired girl that called me liar
kissing my rapist.
VI.
water, water, water:
the way alcohol and sodas taste make me sick.
my body is a temple that has been desecrated by another.
restoration means starving it, purifying it,
letting the river rush into my veins
(hold me, i'm sick.)
I fall asleep, a symphony in my stomach.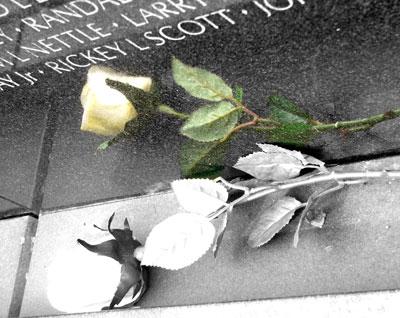 © Kimber E., Yorktown, VA