One Phone Call Ago
August 25, 2016
Verse 1:
A year ago today,
I would be on the phone,
Telling her about the news of her 10th grade girl,
She would listen to every word,
I had to say,
Even if I said it before it got to my brain,
She would nod all the time,
And smile day by day,
We had our ups and downs,
Our curves that almost wrecked off our windy relationship,
She tried so hard,
Why did I not try harder?
to be a decent granddaughter,
She tried everything,
To help me through the hard times,
It seemed like her main priority,
Why wasn't it to me?

Verse 2:
I always knew deep in my bones,
Wether I wanted to believe or not,
She had a good heart,
She loved everyone,
She was a great lady,
But until she was gone,
I didn't know just how great,
I really should of appreciated her more,
Instead of slamming doors,
To get away from the anxiety,
Some of the visits caused me.
I did not want to sit and talk,
I just wanted to run and play hopscotch.
Verse 3:
Now she is gone,
And I don't know where to run,
I keep waiting for a phone call,
She called me every week,
Congratulated me whenever I had to speak,
Or got an award,
She would hug me all the time,
Say how much she loved my rhymes,
She would chat to her friends,
And say things,
Like how lucky she thought she was to have a granddaughter like me,
Running around writing random things.
Verse 4:
She was so strong,
Strong enough to admit if she were wrong,
But she still had passions and beliefs,
That she would never give up no matter how much grief,
I miss her calling me up,
I was so lucky to have her in my life,
Why did she ever cause me so much anxiety?
Now she is gone,
I did it all wrong,
Instead of thinking about her,
all I could dream about was me,
Now she will never know,
How much I miss her talks,
Her laugh,
Her comments on my wall,
I pick up the picture frame,
And hold it tight,
Wanting some of her brave,
To hold me together,
Because I'm falling apart,
Without her.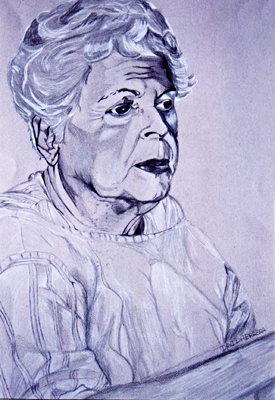 © David H., Kannapolis, NC