New Roadz
October 8, 2015
This trail he's walkin' on, it ain't
Goin' nowhere good, he knows it's got a taint
He's tryin' to leave it , to make a new path
For others like him that ain't tryin' to walk this path.
He can't, though; the people he walks it with pull him back to old ways,
And with all this tall grass, it's gonna take him days.
It stops him seein' where he's tryin' to go,
But where, right now, even he don't know.
He can't though, 'cause the cruel thorns scratch
At the already-torn clothes that don't even match.
Most don't touch his skin; when they do they cut deep;
And he just takes it quietly without a peep.
He's leavin' now, though; he ain't lookin' back,
'Cause them crazy a** foo's , they must be doin' crack.
Thinkin' they can keep him from doin' somethin' better
Nah, he's leavin', breakin' his chains 'n' fetters.
'Cause the old road, it ain't goin' nowhere good.
He's goin' now, leavin' this crazy a** neighborhood.
'Cause even though the new roads gonna take a lot of work,
He's gonna take the hurt, take it with a smirk.
"Peace out, y'all," he's sayin', "y'all don't care 'bout me.
I got better places I gotta be.
If y'all don't see me at the end, y'all must be blind,
'Cause when I get to the top of the mountain, I'm gonna shine."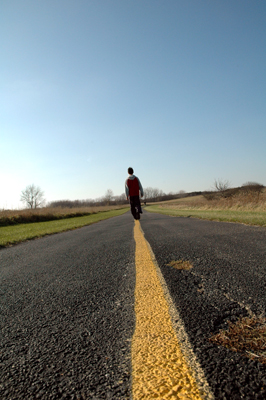 © Seita O., Palatine, IL