Rainbow Shoes
March 1, 2014
Sometimes there's more to it than what you see.
This isn't just a story all about me.
This story's about people around the whole world.
They've been bullied and hurt, both boys and girls.
They're just normal people living everyday lives
Yet they're harassed daily because a marriage shouldn't have two wives?

How can you hurt someone for being them self?
How could you think it's wrong, that they need help?
I ask what would you do if it happened to you?
If it didn't just happen but you were born this way too?
Would you scream and cry? Maybe run away and hide?
Would you burry it deep within and lock it up inside?

They say love is blind and that one is true.
Love doesn't see gender, ethnicity, or hue.
Imagine if you were gay and had to live a lie,
While others screamed out that gay people should die.
Let me tell yah' it would hurt, your heart would be bruised.
So before you going judging, take a walk in these shoes.

You might not think that it's a big deal,
But people are getting jumped, imprisoned, and killed.
Now take a moment and think.
Discrimination really stinks.
We will stand up together, no longer will we hide.
These rainbow shoes I wear match my rainbow pride.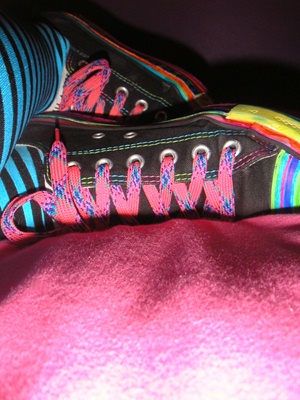 © Melanie R., Milpitas, CA