Are You Proud Of Me Dad
April 17, 2013
Dad we were so close,

I remember those mornings making toast.

I remember playing with cars on the floor,

And you coming home to me waiting at the door.

i was so young when you passed away,

i often wondered why you couldn't stay.

i never realized why mom said you weren't coming back,

until you're funeral when i saw you dressed in black.

i tried poking you like i used to do,

but when you didn't move that is when i knew.

i became very sad and started to cry,

i threw myself on you and on your chest i lie.

til mom picked me up and gave me a hug,

calming me down with a little snug.

Sometimes I think i can hear you whisper,

But when i listen the sound becomes dimmer.

I remember crying every night,

Screaming out for you to hold me tight.

Like you did,

when you carried me to my crib.

I remember the warmth you brought to me,

I hope i make you proud with what you see.

I love you dad and i know you love me too,

Because your my hero and i wanna be like you.

I wish we had more time together,

But the time we spent will last forever.

Mom cries sometimes when a sad song comes on,

So i give her a hug knowing i have to be strong.

I tell her that you have not gone,

Your presence and love is in the song.

Dad if you can hear me,

I love you and i can't wait to see,

You standing there just like my dreams.

I won't cry nor shed a tear,

I will be happy knowing you are here.

Never to leave like that again,

Father and son time like it should've been.

Do you remember the halloween,

where the school next door always made me scream.

Hearing the chainsaws it was so scary,

But you were right there always caring.

You are my shining knight in armor,

and i'm the boy who sits on your shoulder.

Just like the day when we had a bat attack,

You flew in with two pillows and gave one wack.

Protected us all from harm,

Shining like the northern star.

Are you proud of me dad?

Are you proud of your little lad?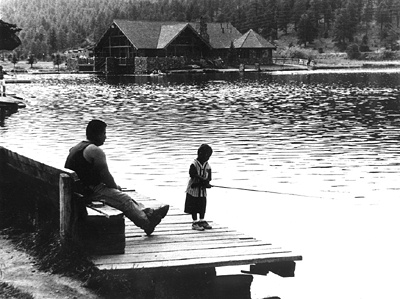 © Ryan P., Greenwood Village, CO