Curbside Freedom
August 28, 2012
He talks like a fairytale,
He sings like an angel,
Got some money in his pocket,
But he got no cable,
It's a messy world out there
For a person pleaser,
But for the life of him,
I'd wish he'd see it.

He's nothin' special,
But got a pocketful of aspirations,
Wants to be somebody,
Doesn't want to be so normal,
He's either blendin' in,
Or either standin' out,
But for the life of him,
I'd wish someone would give him a shout.

Standin' curbside,
A hand in his pocket,
One hand in the air
Thumbin' for a ride,
His guitar named Harriet is slung across his shoulder,
Dang, he wishes he had a nicer place to hold her,
Yes, that's his baby he keeps thinkin' about,
Make it big, get away, and take her back down to the South.
Ah, Dirty Dan, that's his name,
He imagines in lights,
Yeah, babe, that's my stage name,
He'll sing of a faraway land,
And Harriet will sing of an imaginary freedom,
It'll take place when people are hand-in-hand,
Yeah, Harriet will sing about that freedom,
And he'll just sing of a faraway land.
It'll make them feel good,
Everyone that hears it,
Yeah, and they will sing,
And everyone that will hear it,
They will be happy,
And they'll sing about that faraway land,
Imagining their freedom,
And they will all sing,
To be happy.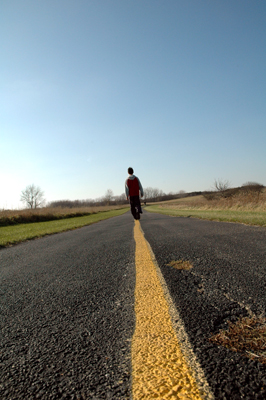 © Seita O., Palatine, IL