Your future rests in your dreams
May 17, 2012
As I look to the stars that are high above me,
I understand a sliver of what it's like to be free,
Watching the people stroll by unentertained,
I looked at this woman, battle scarred and stained,
Definitely poor but not lacking in her strength,
I sat down next to her but kept an arms length,
She told me all about her life and how it went wrong,
the decisions that she made to her favorite song,
It had a trail of love that had gone undiscovered,
And a baby unborn that would never be mothered,
Ashamed now weeping she pulled out whiskey,
I suppose it's her addictive form of lifes hidden key,
She took a rather large swig form the large bottle,
And proceeded to explain to me her life's motto,
don't go to fast or you'll be left for the past,
 past is forgotten so you better make it last,
She said once I could've been successful and great,
But instead I was overcome by greed and hate,
I was caught by the grip of cocaines hands,
Ruined many offerings and that suited all my plans,
Future was indefinitely rushed out by substance,
I'm still here today, held in the catchers mitt,
Locked in on all sides wherever alcohol resides,
Brainwashed by all my pathetic lies,
No one has helped me when I opened my mouth,
I guess that's what I get for taking moods down south,
A poor girls already sad enough,
But when you add to the list that she needs to up fill her cup?
The lot of the world will walk away slowly,
Praying to a god who names himself holy,
Help this woman, this man, this thing,
Open up the heavens and let her hear angels sing, 
It's b******* and thats the damn truth,
I know that cus I've already dug down to my roots,
And why am I still blabbering about nothing?
So I filled up her cup just to help with something,


The reflection followed as we sat watching stars,
No one had ever offered to see her scars,
Sometimes that's the most important action,
To listen with captivation and passion,
I did just that so this woman could have rest,
From all the weight shed been holdin on her chest,
I guess the universe thought we needed sleep,
Because the bright lights went out in the street,
I thought about how the earth mothers us daily,
And fell asleep to the sound of an ambulance raging,
I woke up to see an empty bottle of jacks,
And hordes of reporters smoking cigarettes of packs,
They all turned different shades of neon green,
And one by one, they peacefully left the scene,
I looked over to the being on my right,
Expecting the woman I'd been with that night,
But instead I saw an exact duplicate of me,
And knew that that story would be mine to be,
Holding an empty bottle of jacks in my hand,
I finally knew, I now could completely understand,
Id gotten a visit from my future,
But in the form of an old one needing love and nurture,
I didn't want to live like there was nothing worth living,
For, I got up, it was morning,
 I ran for the nearest door,
I went to the clerk of a small coffee shop,
I told him my story, my future, and begged for a job,
This is the story of literally no one, 
But I figure you can connect with some,
Of the emotions I've placed deep inside the words,
So learn from this lesson that you just heard.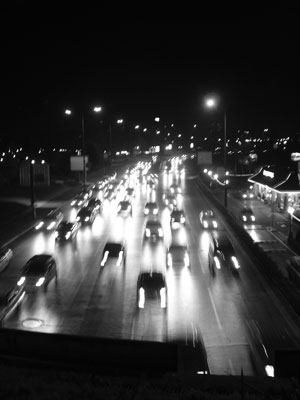 © Marietta S., Pleven, Bulgaria