Purple Giraffes
May 17, 2012
What if your life came to a halt?
You moved like a slug covered in salt,
You could not see, could not breathe,
Are you ready for your time to leave?

No ones ready for their life to end,
Who to trust, if not your best friend?
You live your life, then ya die,
Know it all, but now ask why.

Realize there is nothing left to love,
Just a black crow, that was once a dove,
Think of what all you did in life,
And now with time it ends, not a knife.

Start to think of your first school crush,
Somehow through the cold, pale cheeks, you blush.
You cough, gasp & struggle for a breath of air,
Break down, cry, pull out your grey hair.

Remember all the people you met,
Look up & realize this is your last sunset,
Heart always healthy & lungs in shape,
Now hacking blood, you close the drape.

Start to think this is where your grandpa died,
Skin is wrinkly, memory almost fried.
Remember all the hugs & laughs,
And your favorite animal, purple giraffes.

Look back & remember friends you made,
Were they real or an acting charade?
There will always be that one good friend,
But they died first, you're alone in the end.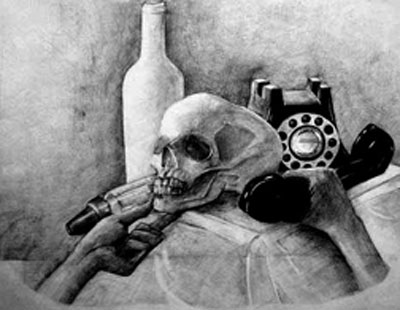 © Xiao H., Naperville, IL