I'll Get Over You
February 4, 2012
I wrote this song for me.
I still think of you, when I sing it…
I wrote this song,
For me…
I hope I won't regret it…
Time and time I've said it…
For you.
I will sing this song to,
Forget about you…
To
Forget about me too…

I will stay awake,
All the hours that you take,
All the things you've told me,
Just know you will never know me
That you
Never ever even for a second owned me
I thought, I thought,
I'll get over this
Turns out life isn't filled with that much bliss,
Even though it was only one kiss…
I didn't mean to,
I didn't want to,
But you looked at me with toughs eyes
I saw the fire inside,
Knew that I could get burned,
Get hurt,
Get the picture?
Then I jumped anyway…
Somehow, I just thought you might have stayed…
Someway, some miracle
but it was only fictional,
A fantasy,
That you would ever really be with me.

Leave now,
Please just go before I break down.
To think I thought I'd write a love song,
For you,
Just look where that got us, now.
I won't
Sit here and pretend that it's okay.
No, it don't matter what you say.
So you're sorry?
All the times you broke my heart,
You're "Sorry?"
Think that'll work?
Like it's not too late?
Well I'm sorry,
That you still think you're all that,
I bet he still thinks it's all right,
What he does to me,
Am I crazy?
If for a moment,
I just I thought it would all be,
Like the perfect, perfect fantasy.
Look down,
My hands are shaking
It's so loud, you still think I'm faking?
When I'm crying?
How dare you say I'm lying?
What I felt for you,
I guess it wasn't true.
Oh God, please tell me
I hope I can do better than you
Cause I don't think I could pick up the pieces again.
I'll get over this,
It was only a kiss,
It was only a dream that never quite came true.
So please leave now,
Before I break down,
Because I'm tired of always
Taking care of you…
When you never ever ever
Looked at me like I do you…
Sometimes, I still do…
It's too late, I swore:
I'll get over you.

Won't let you hurt me...
no more.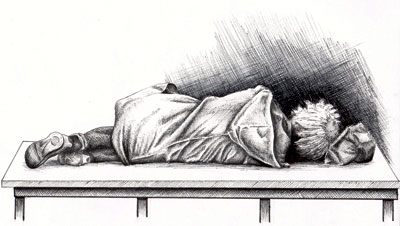 © Devin N., Sherrills Ford, NC