Down the Road I Go
October 30, 2011
Down the road I go,
Down far places I don't know.
I am leaving my home at last,
Time sure has gone by fast.
My childhood years are done,
Now I must go out and run.
All the life I want to live,
With so much I have to give.
I'm going out to chase my dreams,
It sure is hard it seems.
Never will I be lame,
Even if I garner fame.
No longer am I a child,
But still I am quite mild.
The world has gotten much colder,
But I'm proud to say I'm older.
Indeed, I will see those who are greedy,
Knowing, though, to help those who are needy.
I'll meet people, who I like,
I'll meet people, who I dislike.
Maybe I'll be a star someday,
And I will be far at bay.
Hopefully, you'll see me,
Happy as you will see.
I might fall down,
I might just frown.
But you'll be there,
And you will care.
Remember me on your knee,
So much younger were we.
Now I have so much to learn,
All the life I just yearn.
Down the road I go,
A long, long road I know.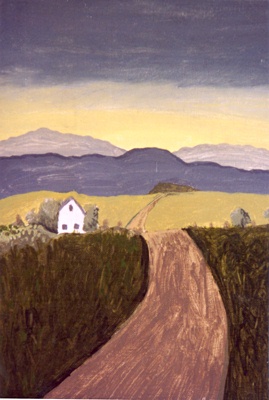 © Alisa L., Tracy, CA