Like Black Coffee
September 27, 2011
Chorus:
The diner was full
As full as the moon
It made young men handsome
To school girls that swoon.

"I'll buy you a beer-Bud Lite's on me,"?Said the cupid-faced boy
With the girl on his knee.

With the bat of a lash and the toss
Of her hair
From cupid-faced boy
She received more than beer.

"I remember those days,"
Said a woman at the bar
"Back when I was a girl
With those boys, I'd go far."?
I smiled politely. "Coffee?" I said
Watching the young couple
She nodded her head.

Sighing in remembrance,
A hand to her heart
Again the woman nodded
"I'll have it black and strong
But make sure it's not tart."

To make her coffee, I went to the kitchen
With a small smile, I thought,
She likes her coffee the way I like men.

[Chorus]

These girls hold the bachelors
Wrapped tight around their finger
Instead of leaving numbers
They leave kisses that linger.

I'm working the night shift
It's five past three
But I can't help but watch
This spectacle in front of me.

The girls with their lip gloss
The boys with their money
Pick-up lines tossed around like confetti
"You've got a face like an angel, honey,"

I had the woman her coffee
It's made the same way I like men
But there's no time to think
Of young Barbie and Ken.

You could say that I was jealous
Of the girls who tossed their hair
I wanted to be perched on the knee
Of a boy who bought me beer.

I smile at this memory and consider my life
What went right and what went wrong
I think of my husband, who
Just like my coffee
Is black, and so very strong.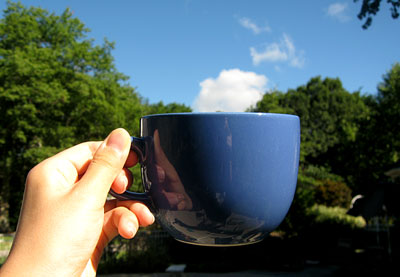 © Chae Lin S., Providence, RI