The Girl of My Dreams
March 24, 2011
When I would see her
I felt us holding hands
It was a summery feeling
A feeling I've never had
She seemed so lovely
I wished this would never end
Oh what a lucky man
I thought I could have been.

She told me she was taken
It didn't matter at first
Because all I heard
was the sound of her thirst
Her pain, her agony
Oh I wish I could cure it
I'd always be there for her
If only she would permit it

Her pretty face held a smile
It spoke colors of words
It once told me a story
Of this familiar, amazing world
One that I would live in
Because we share the same tastes
Oh, what an amazing woman
If only I could remember her face.

Because this amazing woman
was just a face in my dreams
But when she strums her guitar
A joy grows in my heart
No, I won't look away
I need to listen this moment
Nothing else matters
Only her.

But the sun came up
as the rivers would flow
I awoke from this dream
a confused, angry soul
I remained in bed
Trying to go back to that dream
But alas, the girl of my dreams
No longer strummed her guitar for me

Where did she go, the girl of my dreams?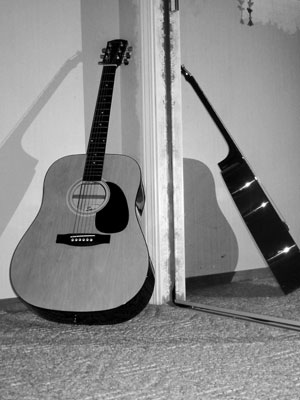 © Dylan F., Belleville, MI