"Miracle"
January 23, 2011
Even though I don't always remember
That first day I saw your face
I treasure that year as a whole
And hold it close all the same.

You make me laugh
Even when I want to cry.
You make me smile
No matter how foul my mood is.

[Chorus]
I hope you don't ever go.
I don't know how
I'd ever learn to let you go.
You are the best gift I could ever ask for.
You are a miracle.
You are a miracle.

Thank you for the fun times
For the good laughs
For the memories.
I often keep you in my heart
To keep it from breaking.
You are the glue
That often holds me together.

You put a smile of my face.
Don't know what I'd do without you.
You'd go to the end of the world for me
And I just want you to know that I would too.

[Repeat Chorus]

And I may not know everything about you
But that's not going to get between us.
We're not going to let anything get us.
Because if we ever did
I'd never have faith in another friendship.

I hope you don't ever go.
I don't know how
I'd ever let you go.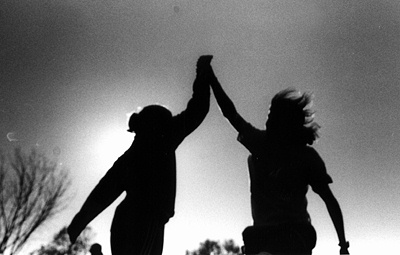 © April P., Marblehead, MA