Ode to a Photograph
March 1, 2010
He kisses her smile, the image is shot
The picture looks happy, the people are not.
Something about the way the light falls from above
Gives the illusion that the two are in love.
But looks are deceiving, as time flies by
And what is an image but your own mind's eye?
So the film is developed and given a frame
They smile at the picture but it's not the same.
The photograph hangs above their door
Where her mother's wedding picture had hung before.
He passes it early as he heads to work
She passes it and wishes he wasn't a jerk.
But nevertheless, it holds its space
From a better time and a happier place.
Sometimes it makes his bruised heart soften
He'll stop to reminisce, but not so often.
As the years pass, the woman's so battered
The picture frame's brittle and the glass is shattered.
So many times the words go unspoken
Her heart is hardened and almost broken.
On one night she begs through tears
"Kiss me again; it's been so many years!"
So he agrees with his tired smile
She feels his skin for the first time in a while.
He's feeling sick from a love that's forced
She's just wishing they could get divorced.
More years pass and he kisses her hand
The pressure of pain can no longer withstand.
He turns over to face her in bed
She feels no sparks from a love long dead.
She's getting more tired, no longer a dancer
He's getting thinner, losing to cancer.
They grow old together so they grow old apart
Connected by a picture and not by the heart.
People are evolving, destiny rearranges
But this is just a picture that can't amend with changes
One day they'll die and they'll perish in their grave
But the image is still one to forever save.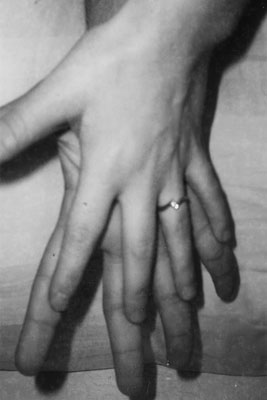 © Heather H., Phoenix, AZ