Untitled Song #1
September 28, 2009
(Verse 1)
It happened
and so quickly,
it happened like that.
When I met you
and I saw your eyes,
it happened like that.
With our eyes,
and their contact
a secret language.
With your body,
and my body
it happened like that.

(Chorus)
Living in dreams,
entangled in sheets
when we lay together.
Increasing romances
between the chances
of you and me.
We're sleeping in beds
with thoughts in our heads
and love on our minds.
And if you don't mind
could you give me the time
'cause it seems just right.

(Verse 2)
And your fingers
on my skin
were like peace with the wind.
Conversations
late at night
fly by like a kite.
I hate the phone
but your phone calls
they fill my whole heart.
And when you speak
it makes me weak,
let's never be apart.

(Bridge)
If you ever leave
in the morning
so I can't see your face.
Well honestly, honey,
it'd be a disgrace.
So stay with me
make me happy
word-dancing at night.
Shining by day,
to turn off the light;
a beautiful sight.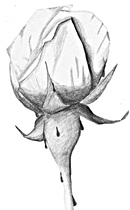 © Elaine S., Phoenix, AZ