Unlocked
April 30, 2012
Once there was a golden treasure chest
in which a lad kept his sweater vest
but he was out of luck
because the lock was stuck
and he had wanted to be best dressed.

For he had a party to attend
at a girl's house just around the bend
now he was in despair
he thought it wasn't fair
he wanted to be more than her friend.

With his sweater vest left in the lurch
to find a crowbar he went to search
but it could not be found
though he looked all around
he should not have lent it to the church.

So for a blacksmith he went to look
but he did not glance at the phone book
no blacksmiths were in town
again he had to frown
'cause all he could find was a fry cook.


But the lad still had no time to cry
because he knew the party was nigh
so the pair sped back home
right past the garden gnome
they left all the cook's burgers to fry.

At the chest the cook did take a peek
behind him the boy started to freak
it was getting too soon
to the party at noon
his chance with the girl was looking bleak.

But the cook looked at him with head cocked
and beside him the chest sat unlocked
for the lad he did see
had been using the wrong key
and this left the boy utterly shocked.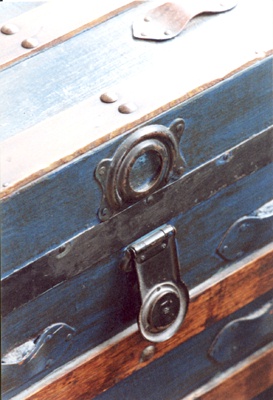 © Amanda F.,New City, NY