Ode to Alice in Wonderland
May 9, 2011
First let my start off by saying that I hate "odes" more than I hate an old T.V. re-run
I'd rather run from a T.V. again and again then have to sit and write one.
But yet I'm still writing one, still sending off an ode to Alice in Wonderland.
It's complicated, so I'll break it down for you, so you can understand.
You see every character in that movie is like someone in real life,
It could be a mother, or a brother, or a husband, or a wife.

Everyone one knows a guy who is real mad hatter,
Never steeping up to the plate even though he's your best batter.
And then there are always two, Tweedledee and Tweedledum,
Always with drinks in hand, speaking nonsense over some rum.
The rabbit who no matter how quick is always running late,
The cat always disappearing at the wrong times, not a desired trait.
The queen of hearts who is so full of herself its an understatement to say her head isn't swelled.
She wants her way and turns bright red so you can tell if she has yelled.
If you look at your life through the looking glass all of these people you will see.
And if you see a handsome poet, don't be mistaken that is me.

So that's the ode to Alice in Wonderland I hope it didn't confuse you,
But if it did then don't feel bad because it confused me too.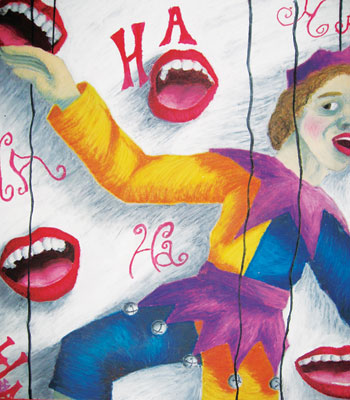 © Carollynn G., Hawthorne, NY