The Angel of Death
March 13, 2010
It hurts to love and not be loved back.
It hurts to know you fell somewhat slack.

It hurts to see you when you're by his side.
Knowing I can't have you, it kills me inside.

But what could I say to change how you feel?
I try my luck, but this fairytale's not real.

Dreaming's for dreamers and I'm wide awake.
There's no happy ending, only the pain I intake.

I take it all in, I deal with my day.
I picture your face as you walk away.

I take this pain, hide it within my smile.
Can't let anyone know my hearts so fragile.

I make my way home, this still un-fed.
I show it to no one, now to the world I'm dead.

I'm dead outside as well as within.
Who would have thought death came with this sin.

This evil called love, this sin of envy.
I have nothing left, my heart's but a frenzy.

A frenzy of emotion, a cluster of thought.
It's not much to live for but pain's all that I've got.

All I have left is this pain and this pen.
I put the pen down, my heart aches once again.

It hurt's when I breathe, it hurts when I smile.
Yet when I write I'm okay for a while.

But no amount of writing can take on this agony.
This hate, this hurt that walks beside me.

I breathe in this air yet exhale this ash.
This ash fills my chest as if worn as a sash.

With every breath dealt, this ash fills my sight.
Kicking and screaming, I'm still losing this fight.

This fight for my mind, ownership of my soul.
I want nothing more than to fill this black hole.

This hole that seems endless, this hole that she's made.
This hole shares her name, and it refuses to fade.

So it finally ended, I gave up the fight.
The angel of death now clear in my sight.

This angel of death, my heart in her hand.
In her eyes is this darkness, now face to face with my end

I stare at it now, wiped the tears that I've cried.
This was the day that she left me, the day that I died.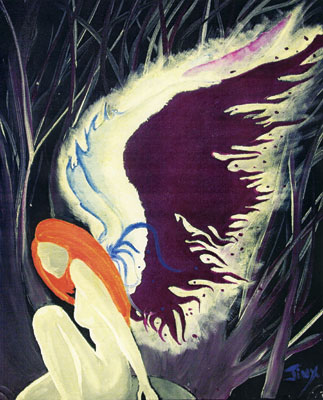 © Megan B., Youngstown, OH