This is Bad for My Health
February 17, 2015
I'm learning to live
Without you constantly there.
It's really hard.
My body will go,
And my skin will touch my bones,
My color will run.
My skin stung with words,
And one day these scars will fade
With running water.
I threw up today.
I just couldn't stand the thought.
You taste like bile.
You're stomach acid.
There are holes in the lining.
You seep out of me.
I cannot breathe well,
But I'll smoke you out of me,
And I'll be alright.
I kept my head down.
I looked up once and saw you.
I felt my lungs die.
You have wracked my nerves,
Started the twitch in my neck.
You shook up my life.
My head is pounding,
Aneurysms are coming,
And I'll be brain dead.
My blood pressure rose,
You clotted my arteries,
My heart stopped beating.
Like a Charlie horse,
You dropped me down to my knees,
And I kneeled on glass.
I will not say it.
I will not admit to it,
But it's for the best.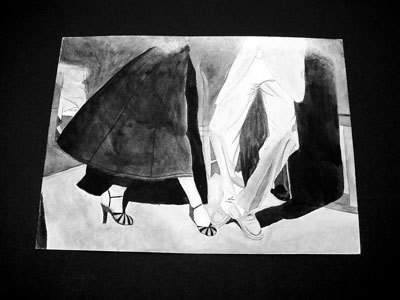 © Meghan V., Owensboro, KY