Artist
November 3, 2013
I. The Painter

He is Picasso
And I am his abstract art,
Bending at his will,

Stained glass window heart
My multi-colored soul melts
In his rainbow craft.

His kiss is the paint,
My white breasts are his canvas:
Black and blue designs.

Skin is the paintbrush
Stroking his flesh against mine,
He dips in for more.

My broken façade
Lacks structure in countenance
Jigsaw shaped outline.

Polygram structure,
His passion was in cubism,
Mine in softer forms.

My flesh is canvas,
His paintings permanently
Displayed on my soul.

II. The Sculptor

He's Alexandros,
Etching my back with his kiss,
I'm his pristine Muse.

He molded my skin
Like marble in his expert hands,
Masterpiece of flesh.

He chips away lies,
Chiseling down my rough flaws,
Smooth as a goddess.

He called me Venus,
His goddess of affection,
Carved from purest love.

My hourglass waist,
Engraved with his initials,
Reminder of time

O virginity,
An inspiration to men,
Forever made chaste,

I am still his Muse
Erato turned to Clio
Love yields history.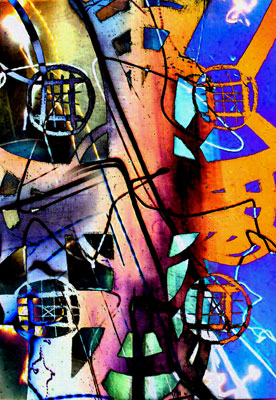 © Caitlin D., Tyler, TX