The Journey of a Leaf
MAG
September 6, 2011
Freezing, dry air melts.
Sweet, vanilla winds arrive.
One petal prevails.

Basking in sunlight,
Petal transforms to leaf.
Verdant tints arrive.

Green grass below fades.
The tree remains alive, but
Only a day more.

Jade hues disappear.
Copper, crimson, amber shades
Surface all around.

Breezes blow the leaf
Past the branches, down the trunk.
Pumpkins rest in reach.

The ground smells wet with
Moldy, dead leaves. The rotting
Tree stumps still hold life.

All is dry and dead.
Animals carry the leaf
Through woods and mountains.

Snow-capped cliffs and harsh
Blasts of wind make the air so
Frigid it's painful.

Melting snow carries
The leaf down to a river.
Slowly growing warm.

Muddy banks and the
Smell of fish loom near the end.
The leaf rests at last.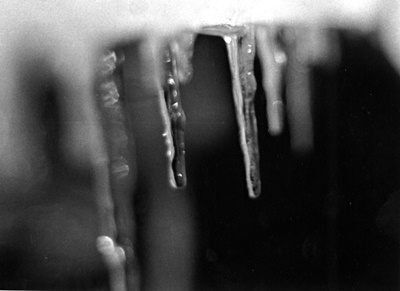 © Lindsey D., Marblehead, MA