Compared to What?
June 9, 2018
A phoenix is what everyone calls me.
but how can I be something I'm not meant to be?
The fire burning in its soulless eyes
answers the calls, the shrieks, and cries.
As it soars over this ancient Metropolis,
Lovers exchange their very last kiss.
It approaches it's bloodthirsty feline opponent,
The sphinx looks above, calm for a moment.
Blood leaking from its mouth, it challenges the guardian,
but the phoenix won't let him torment the city again.
The two bound towards each other
striking and beating one another.
Dusty winds and debris crowd the fight.
The phoenix claps its wings with all its might.
The two fall and the sphinx is begging on its knees,
tired and heroic the phoenix stands in the breeze.
the bird plants its feet in the ground
making a loud sonorous sound.
It takes its two wings and claps them together.
To ashes it falls, but it's not gone forever.
It resurrects stronger than it was before.
He looks down at the sphinx dead on the floor.
Victory is his and the people open their eyes,
looking up as a red and purple fill the skies.
It's indication that the phoenix has been there,
and the dust and debris leave the air.
Now I know why i'm compared to a fighter.
It's because I'm one hell of a writer.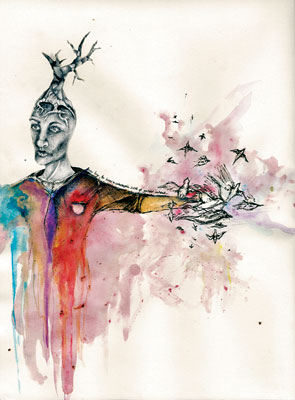 © Alice B., Sarasota, FL