I Am From ME
April 30, 2018
I am from flowers growing in the grass,
from Barbies and Capri-suns.
I am from the cloud color house with black shutters,
with columns going up the house white and tall,
cozy and welcoming.
It felt like forever a wonderland.
I am from the old red maple tree,
just as juvenile as the two small blonde girls who climb it,
the daffodils growing underneath,
yellow and white with life and innocence,
I'm from the holidays with each side of the family,
and tall with light eyes from Karl and Karen and Karissa.
I'm from the active competitors,
and silly, fun, jokesters.
I am from the tooth fairy,
and the monsters underneath my bed.
I'm from going to Sunday school,
where small children sang of their inner light.
I am from the family that comes together in times of need,
and just to simply enjoy each others presence.
I'm from the south of the island, coming from Germany and Poland,
Schnitzel and pierogis.
From the climbing of the trees, the hay, the five young kids,
the three boys and the two girls,
the protection of me at my time of falling,
the comfort supplied by the boys.
I am from the events that made us the five people we have grown to be.
I am from the living room dressed in white,
the photos of infants on swings in arms of a loving father and mother,
photos of little girls dancing in the sunset.
I am from the combination of Bischoff and Karniewicz,
their eldest daughter, raised with a younger look alike who is my greatest companion.
Grown with red hair hair turned blonde with age,
their child the one who takes on challenges on her own,
thrives to be different, ambitious to succeed expectations by herself.
The girl on her family tree of leaves,
she grows to be a flower.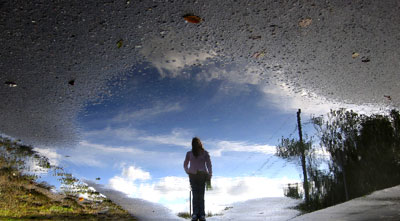 © Daniel H., Oak Bluffs, MA