The Bird
MAG
April 30, 2018
The Bird
I

You rolled that worm in your beak, I watched you
Until the threshold of decay claimed your heart.
I can imagine this featherless avian with wings
Protruding past the context of thick pine branches
And you sway like a mourner when the wind
Scrapes your hollow bones in the dry afternoon.
You fertilize the atmosphere with your tawny skin.
Let the coroner assume you departed on your own terms,
Smelling the world before you, shaded
Between picket fences in your ideal retirement
And your funeral pyre of green. Altar to oxygen,
Where ammonia might be needed
To desecrate your remains, remnants,
Remembrance. But why would we bury
Poultry? We drank absinthe for you,
And we sat around and imagined a world
Where processions of insects honored their god.
The owls in mourning roiled and rolled like dervishes
In deserted plazas with more bullet holes
Than mouths to feed.
You were only a bird because you dragged comets
Like worms and died the death of a persona-non-grata.
II

But this was you, child of the sky, with stardust
Streaking across your cheeks, entangled
In a web of your untruthful wings;
Parachute of a cosmonaut or a waxwing.
You are not a bird at all, but a descendant
Of circumstance. Planting flags on the moon
Won't grow you a country and planting
Your body won't grow you a self.
But I see you, swinging crazed
From your branch. You implore a proper
Burial of mammalian proportion, beneath
The dirt; A half-hearted inscription
Delivered to the coroner
a month late, on a napkin.
But let's assume you went
Without agency, wielding star-spangled
Knives and you swallowed your last drops of blood
From the last worm you had caught.
Your helmet dropped, glitter eyes form one;
White plastic encasing your talons,
Decaying off your arm like wings,
Oxygen apparatus hanging like tail feathers,
Eyes wild like the tree caught prey,
Tied up in years to come and swallowed
By the earth, songs of electronics
And wires only left for the ears of blind giants.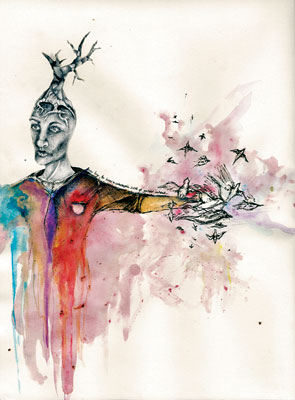 © Alice B., Sarasota, FL