WARNING!
April 28, 2018
You brought this upon yourself,
The pain and the wither.
You turned your back,
Only to ignore the warnings.
I will not say i told you so.
I will sit gently and wait,
Wait for you to admit the wrong.
I even do it to myself, too.
WARNING!!!
Turn your back and not listen.
I breathe gently,
My heart plays a screamo melody.
I wait for you to realize,
The effects.
Ignorant one…
You think good will come,
But only good will leave.
"Don't hurt her."
I feel like i repeat myself.
I tried.
Do your best shot,
You ignorant and naive person.
Don't listen to me,
But to the signs.
No, instead,
You're blinded by what you are doing.
WARNING!!!
Why won't you listen.
Stop, you'll hurt  her.
STOP! you're hurting her…
"STOP!!!"
SHE CRIES.
Helplessly seems,
Don't listen to me,
I am only trying to warn you.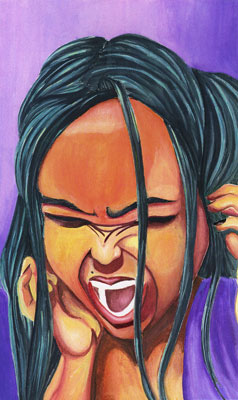 © Kriztille J., Briarwood, NY