Switch Places
April 16, 2018
Let's try to trade shoes.
You see what it's like to have this black cloud hovering,
Over your head.
Feeling less than perfect,
Because of the no acceptance,
Let's see you try to blend in.
Try to swallow the fear as the tears was to rush down your face,
You'll try to avoid eye contact, but it'll eventually happen.
Eye contact will unlock this door that allows communication,
But you really wish it would of stayed locked.
Because now,
All you can think about is taking another misstep.
Everything in your head gets more confusing.
The fact that you know you can't change doesn't help.
It doesn't help that you know that everyone has this preconceived idea,
And you continuously try to convince yourself you are flawless,
And you know who to talk to,
But it isn't like anyone will be calling your phone.
Now you'll be stuck staring at your phone,
Hoping your eyes will turn on this magic switch that'll make people text you.
Well you gave your hopes up because the next day is just as muted as your phone was.
You will walk around to different groups,
But just because one person laughed at one thing you said doesn't mean you are "in the mix"
You will still go home and pick everything apart until you're at the point of tears.
You will realize it's exhaustive,
But that won't help you get sleep.
You will just have to wait 'till the thoughts fade away,
But don't forget,
They will reappear tomorrow.
Still want to trade shoes?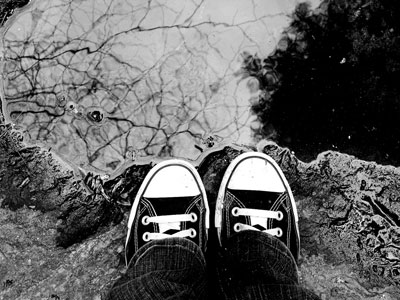 © Michelle B., Blairsville, GA