The Feelin' Of Broadway
April 12, 2018

I remember the lights.
I remember the signs.
I remember the music.
I remember the acting.
I remember the feel of the cushioned seats.
The scent of the food,
The beauty of the theatre.
It sounded like a glorious bell.
I was ready to tell,
"Get ready for it."
They are getting the lightning.
While the writers were writing.
The people were caring.
No one was glaring.
Dun Dun!
The music was starting.
The people were settling.
Everyone was a Hawk.
As they watched, no one would talk.
The music was flowing,
The acting was showing.
This is the feelin'!
It is here!
I know the lights.
I know the signs.
I know the music.
I know the acting.
I know the feel of the cushioned seats.
It all came back to me.
When I went back to the theatre.
When I went back home.
I feel the positivity.
I love it here.
It longs for me.
I long for it.
It's a world of opportunity.
It is a world of possibility.
It is a world of open doors.
Welcome to a new world.
You will find home and adventure here.
On Broadway!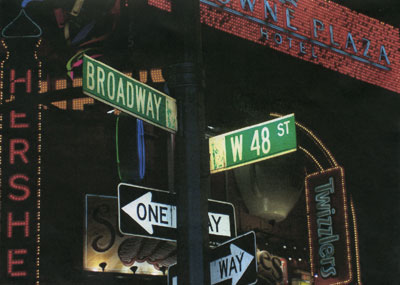 © Kaitlyn S., Milford, CT