Ode To The Stage
April 19, 2018

Woodchips linger in the air of a set newly built
The smell of dust and paint lingers in my nose
It rushes through my body filling me with new passions
It travels to my heart, making it shine when I walk through the door
I am living.
Echoes of voices and stories hang in the air
If I close my eyes I can see them
The actors who came before me, onstage.
They are living.
A costume slips itself over my shoulders
Lavish cloth on common, unadorned skin
I turn to the mirror and smile
I am no longer me, I am someone else
Onstage. Today.
And they are living.
Backstage someone grabs my hand
We are feeling all the same things
Thinking all the same thoughts
Without having to say a word
Our hearts beat together and
We are living.
The spotlight is hot on my face
I close my eyes and soak it in
Etching every detail into my memory
Applause washes over me in waves
I am living.
And it feels just like it did
The first time
I lived.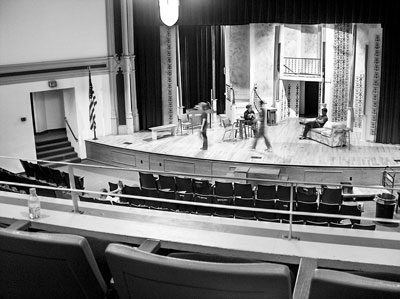 © Sean C., Princeton, IL