Words Shared Between Two People
April 16, 2018
Underneath the canopy of trees
Is an oddly comfortable breeze.
A hidden landscape shrouded in a white cover.
Try to peer beyond it, but still it hovers
Concealing the quiet landscape that hides beneath.
What will lifting this blanket unleash?
I wonder.
A world of mythology?
A new psychology?
In which to think about the little things in the world?
No.
So what lies beneath this blanket?
An unmarked world between civilization and the wilderness?
A place to discover your happiness?
     Emotion?
          Calling?
               order? 
Stop.
Now I've gone a little overboard.
Underneath a canopy of trees,
Just take a minute to breathe,
Feel one with this place yet?
No?
Then take some time to reconsider why you came here in the first place.
Stress.  More stress.
Moving too quickly? Then slow down.
You can't or you won't?
Breathe again.
Look around you. You have the key,
Now can't you see?
This is why you came here.
Now I know that it's not exactly sheer,
I know it's not your choice,
But just know that you do have a voice,
So share your thoughts with the room.
It's in your head.  It's out of your head.
It's behind a wooden fence.
It's in a room full of strangers.
Keep quiet and maybe they won't notice.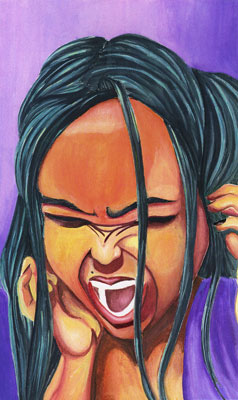 © Kriztille J., Briarwood, NY