School is tough
April 3, 2018
  As I looked at the page my mind went blank.
It felt as if I had just sank.
Why didn't I know any of this?
Was there something I had missed?
I tried the best I could and handed it in.
What's the worst that could happen?
I got my test back and started to grieve 
because on the front page was an 50%  in red.
I can't believe what I have just read.
There are no excuses to be said.
The teacher began to say,
"have this test signed and back by Monday."
Right there I froze didn't know what to do, 
Until I decided to lie to my parents only this time.
I had to become a mime,
Only for the weekend.
However, on Monday morning I decided it would be best,
if I were the one to sign the test.
Satisfied, I turned around.
Only found my teacher looking down upon me 
He looked disappointed and started to say,
my work ethic is unacceptable and that I needed 
to make a change. 
If I don't change then I can't meet the required Lexile Range.
After that I had to change my way, 
So, I won't be able to delay, 
My own future in the world.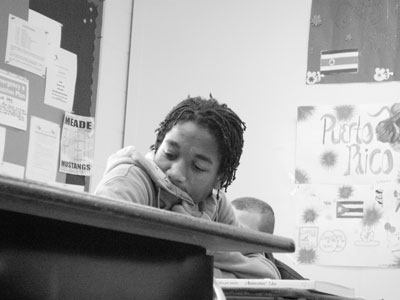 © Demetrius A., Ft. Meade, MD